World Gold Council (WGC), vodilno svetovno združenje udeležencev na trgu zlata, je objavilo svoje polletno poročilo, ki obravnava gibanje cen zlata v prvi polovici leta in opozarja na dejavnike, ki bi lahko vplivali na ceno za ostale. leta. Letošnje poročilo daje vlagateljem več razlogov za optimizem, saj WGC napoveduje dvig cene rumene plemenite kovine v prihodnjih mesecih . 
Poročilo predvideva različne scenarije, ki bi se lahko zgodili v drugi polovici tekočega leta, in analizira morebitni vpliv teh scenarijev na ceno zlata. WGC je s posebno metodologijo razvil model, ki v prihodnjih mesecih pušča prostor za pet različnih scenarijev in v vsakem od teh scenarijev cena zlata raste.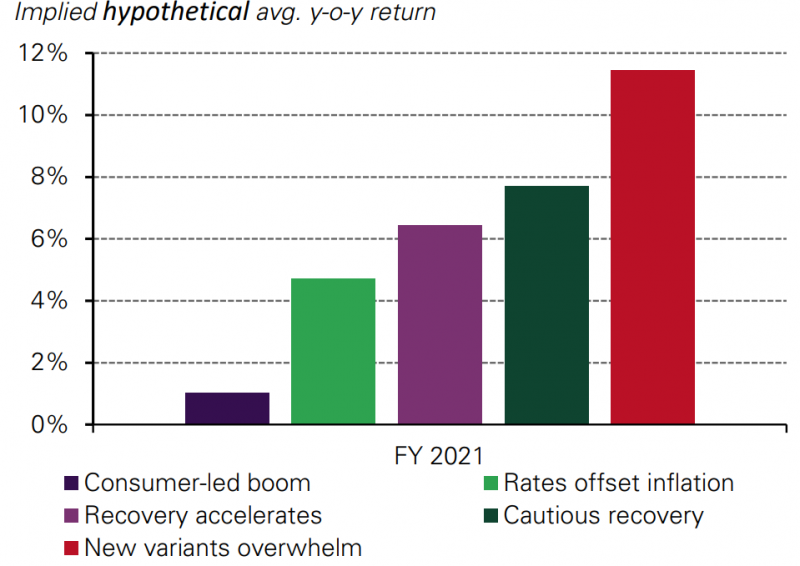 Različni scenariji okrevanja gospodarstva
Čeprav bi vseh pet scenarijev okrevanja svetovnega gospodarstva pozitivno vplivalo na rast cene zlata, je po poročilu WGC stopnja rasti odvisna od tega, kateri scenarij se uresniči. Na primer, če bo prišlo do velikega povečanja individualne potrošnje, ki bo glavno gonilo okrevanja, WGC napoveduje 1,04-odstotno rast cene zlata ob koncu leta.
Če pa bo prišlo do počasnega okrevanja gospodarstva od pandemije, bo rast cene zlata ob koncu leta bistveno višja, nad 7 %. Najbolj pesimističen scenarij glede okrevanja gospodarstva je tudi najbolj optimističen za vlagatelje v zlato, saj je v tem scenariju veliko širjenje novih sevov koronavirusa, ki bi sprožili nove valove zapiranja, v tem primeru pa cena zlata na koncu leta bi zrasla za 11,45 % .
Razlog za to je rast povpraševanja po zlatu, ki bi nastala zaradi nastajajočih tržnih razmer. Namreč naraščajoče stopnje inflacije že zdaj potiskajo povpraševanje po investicijskem zlatu navzgor, v primeru novih zaprtij pa se bodo vlagatelji, ki iščejo varne oblike vlaganja, znova zatekli k zlatu, ki se je v negotovih časih izkazalo za donosno naložbo , saj v nasprotju s tveganimi delnicami ali nedonosnimi obveznicami.
Cepljenje in obrestne mere so glavni dejavniki cen zlata
WGC v svojem poročilu navaja, da sta glavna dejavnika, od katerih bo kratkoročno odvisna cena zlata, precepljenost prebivalstva proti bolezni covid-19 in gibanje obrestnih mer na ameriške državne obveznice . 
Kar zadeva cepljenje, trenutno v svetovnem merilu vztrajno raste zaradi vse večje razpoložljivosti cepiv po vsem svetu, a veliko nevarnost predstavljajo novi sevi koronavirusa, ki po prvih podatkih predstavljajo večjo odpornost na cepiva kot prejšnji sevi. . Če se bo takšen trend nadaljeval, bi lahko upočasnilo okrevanje gospodarstva, kar bi lahko pozitivno vplivalo na ceno zlata do konca leta.
Kar zadeva obrestne mere , so trenutno na zgodovinsko nizkih ravneh, zato vlaganje v obveznice trenutno za vlagatelje ni zelo donosno. Poročilo navaja, da možnost dviga obrestnih mer s strani ameriške centralne banke Federal Reserve ostaja, vendar to ne bo neupravičeno vplivalo na vedenje vlagateljev, ki že mesece aktivno prenašajo kapital iz obveznic v zlato . Zaradi vsega naštetega poročilo napoveduje, da bodo obrestne mere v prihodnosti podpirale rast cen zlata.
Rast cene zlata na dolgi rok
Vse navedene napovedi iz poročila WGC obravnavajo gibanje cene zlata na kratek rok, torej v preostalih mesecih leta 2021. Čeprav bi bilo za vlagatelje v zlato super, da bi uresničili napoved 11-odstotnega podražitve do konca leta, je dejstvo, da je izjemno težko natančno napovedati gibanje cene zlata, o čemer smo pisali tukaj . 
Ker je zlato naložbeni instrument, v katerega je mišljena dolgoročna naložba, je zaradi sposobnosti ohranjanja vrednosti skozi leta veliko bolj pomembno, kako se bo cena zlata gibala na dolgi rok, tj. večletno obdobje. Spomnimo, cena zlata v evrih je v zadnjih 20 letih rasla s povprečno letno stopnjo okoli 8,3 %.
Če se bo enak trend nadaljeval tudi v prihodnje, to pomeni visoke donose za vse, ki imajo v lasti fizično zlato v obliki zlatih kovancev in zlatih palic. A zaradi novih razmer, pojava inflacije in nizkih obrestnih mer je zlahka možno, da bo rast v prihodnjih letih celo višja od povprečne rasti v zadnjih 20 letih. V tem primeru bi to pomenilo, da je še vedno odličen čas za vlaganje v rumeno plemenito kovino.
Avtor:
centarzlata.com
Opombe:
Vsako sklicevanje na "Centar Zlata" na tej strani se nanaša na podjetje Saiva d.o.o.

Besedila na centruzlata.com se uporabljajo izključno za informiranje in izobraževanje o finančnih trgih in trgih plemenitih kovin in jih ne bi smeli obravnavati kot naložbeno svetovanje.