Čeprav so obrestne mere za dolgoročno varčevanje najnižje v zgodovini, je dolgoročno varčevanje še vedno najbolj priljubljen način za vlaganje denarja na Hrvaškem. Državljani hranijo več kot 160 milijard kun, kar je nekajkrat več od 19 milijard kun v investicijskih fondih ter od 15 milijard kun, ki jih državljani hranijo doma v gotovini, čemur rečemo tudi varčevanje v nogavicah.
Banke varčevanje predstavljajo kot izredno zanesljiv in dober način vlaganja denarja, ki redno prinaša obresti in povečuje kapital prihrankov. Praksa pa vendarle pokaže, da dolgoročno varčevanje denarja ne povečuje bogastva bančnih komitentov. Poleg tega so nominalne obrestne mere za dolgoročno varčevanje v Evropi trenutno najnižje v zgodovini. Ostale obrestne mere (kot so obrestne mere za kredite, obveznice in referenčne obrestne mere, ki jih narekujejo centralne banke) so prav tako pred nekaj leti dosegle rekordno nizke vrednosti.
Zakaj so obrestne mere na dolgoročno varčevanje najnižje v zgodovini?
Finančna kriza, ki se je začela leta 2008, je povzročila največjo recesijo na zahodu po drugi svetovni vojni. Da bi spodbudile gospodarsko okrevanje, so centralne banke vseh razvitih držav začele zniževati obrestne mere. Zaradi nižjih obrestnih mer na varčevanje in obveznice so državljani in investitorji manj motivirani za hranjenje denarja v bankah. Zaradi nizke donosnosti varčevanja se nekateri odločajo za vlaganje v realni sektor, kar zmanjšuje padec skupnih investicij. Hkrati pa padajo tudi obrestne mere za kredite, s čimer se želi spodbuditi državljane za jemanje stanovanjskih kreditov, to pa spodbuja aktivnosti v gradbenem sektorju. V krizi imajo podjetja možnost cenejšega zadolževanja, vlaganja v razvoj novih izdelkov ter storitev in vlaganje v modernizacijo proizvodnje. Ker je bila kriza globoka in dolgotrajna, so centralne banke namerno zmanjšale obrestne mere na ničlo. Nekatere od njih, kot so evropska, japonska in švicarska centralna banka, so namerno znižale referenčne obrestne mere pod ničlo, da bi varčevanje naredile popolnoma nedonosno in spodbudile potrošnjo, podjetja pa spodbudile v zadolževanje in investiranje.
Taj cilj je iz perspektive ekonomista upravičen, vendar pa so centralne banke (ki so državne ustanove) vnaprej poznale posledice take monetarne politike – še večji prepad med bogatimi in revnimi. Dostopnost poceni denarja pomaga zvišati dobiček podjetij in rast cen delnic, ki so v razvitih gospodarstvih v povprečju med letoma 2009 in 2018 zrasle preko 300%! Z vlaganjem v delnice in špekuliranjem na finančnih trgih se praviloma ukvarjajo bogati. Pripadniki srednjega razreda največkrat nimajo ne znanja in ne časa za špekuliranje na borzi, zato svoj denar hranijo v bankah, čeprav so obrestne mere za dolgoročno varčevanje rekordno nizke. Namerno nižanje obrestnih mer in injekcije denarja v finančne sisteme so torej privedli do nedonosnosti varčevanja (kjer hrani svoj kapital srednji sloj) in najbolj dolgotrajne rasti cen delnic v zgodovini (kjer imajo kapital bogati). S tem so bogati postali še bogatejši.
Nominalne in realne obrestne mere
Obrestne mere, o katerih najpogosteje govorimo, so nominalne obrestne mere. To so tiste obresti, ki jih bo banka letno dodajala na varčevalni račun kot nagrado za hranjenje denarja na varčevalnem računu. Vendar pa je nominalna obrestna mera varljiva. Gre za to, da denar praviloma s časom izgublja vrednost, izgubo vrednosti pa imenujemo inflacija. Kaj nam pomaga, če je obrestna mera za dolgoročno varčevanje npr. 3%, če pa je bila inflacija v tem letu 5%? Pri takšnem scenariju je varčevalec z varčevanjem pravzaprav izgubil 2% svojega kapitala in lahko s privarčevanim denarjem kupi manj, kot bi lahko kupil pred varčevanjem. Na žalost večina ljudi ne razume razlike med nominalnimi obrestnimi merami in nezavedno izgublja kapital zaradi inflacije. 
Slika 1: Obrestne mere za dolgoročno varčevanje v evrih na Hrvaškem
Slika 2: Stopnja inflacije na Hrvaškem v zadnjih letih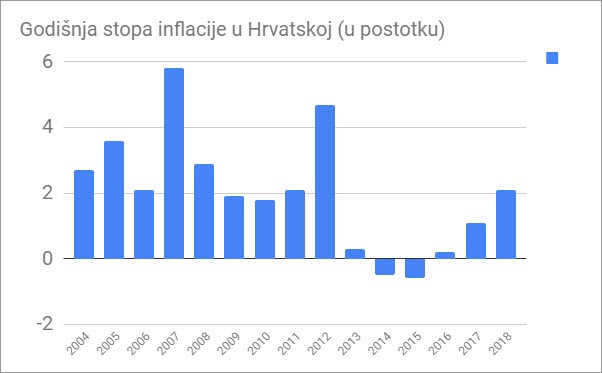 Vir: Državni zavod za statistiko
Zakaj si banke želijo vaših prihrankov?
Pek ne peče bureka iz usmiljenja do lačnih, tako tudi banke ne reklamirajo in hranijo prihrankov državljanov za vnaprej določene obresti, ker jim je žal, da državljani nimajo denarja. Ko varčevalec prinese denar v banko, ga ne bodo dali v sef in tam zanj varno hranili. V obliki kreditov ga bodo posodili nekomu drugemu. Ker so obrestne mere za dolgoročno varčevanje vedno veliko nižje od obresti za kredite, banke z denarjem svojih varčevalcev zaslužijo nekajkrat več, kot njihovi varčevalci. Bolj prav je reči, da varčevalci z dolgoročnim varčevanjem izgubljajo denar, saj so realne obrestne mere občasno negativne (situacija, kadar je inflacija večja od obrestne mere). Pri tem pa ne gre zanemariti niti tveganja pri varčevanju v bankah.
Ali je dolgoročno varčevanje varno?
Večina ljudi bo trdilo, da je dolgoročno varčevanje zanesljiv način vlaganja, saj obstaja državno jamstvo v višini 100.000 evrov, ki jih bo država izplačala varčevalcem v primeru stečaja banke. Izplačilo na Hrvaškem bi bilo v protivrednosti v hrvaških kunah, vendar nimamo nobenega zagotovila, da bi bilo izplačilo izračunano po ugodnem menjalnem tečaju. Zakon o zavarovanju depozita – Članek 7:
"(1) Vsak vlagatelj kreditne ustanove, ki je lastnik sprejemljivega depozita iz 5. članka 1. stavka tega zakona, ima v trenutku nastopa zavarovanega dogodka v tej kreditni ustanovi pravico do nadomestila vključno do višine 100.000 evrov v protivrednosti v kunah po tečaju Hrvaške narodne banke, veljavnem na dan nastopa zavarovanega dogodka."
V primeru stečaja bank in finančne krize, kakršno smo videli v Grčiji med letoma 2010 in 2015 in kakršna se je zgodila v Turčiji leta 2018, bi varčevalci dobili zavarovan znesek. Vprašanje je le, koliko bi bile izplačane kune tedaj vredne. Turška lira je v manj kot enem letu izgubila skoraj 50% vrednosti, tak scenarij pa ni nemogoč niti na Hrvaškem.
Katere so alternative dolgoročnemu varčevanju?
Čeprav lahko bankrotirajo tudi države, pri čemer lastniki obveznic izgubijo del ali pa kar celoten vložek, je tak scenarij veliko manj verjeten od stečaja banke. Če je ena banka v težavah, to še ne pomeni, da je cela država v krizi. Če pa država ne more vračati svojih dolgov, so skoraj zagotovo zelo rizične tudi komercialne banke, saj bi v taki situaciji posojilodajalci povsem izgubili zaupanje v vse finančne institucije v državi. Varčevalci bi množično hiteli v banke po svoje prihranke. V tem primeru verjetno ne bi bilo dovolj denarja za izplačilo vseh varčevalcev.
Zaradi tega je vlaganje v državne obveznice (še posebej v razvitejših državah) bolj varno od vlaganja v obliki varčevanja v bankah. Poleg tega so obrestne mere praviloma višje od obresti za dolgoročno varčevanje. Je pa vlaganje v obveznice zelo zapleteno in se s takimi naložbami praviloma ukvarjajo samo velike finančne institucije, investicijski skladi in podobni.
Navadnim majhnim državljanom je investicijsko zlato v obliki zlatih palic ali zlatnikov veliko bolj praktična možnost. Mnogi strokovnjaki celo menijo, da je zlato bolj varna in likvidna naložba od varčevanja in obveznic. Cena zlata v zadnji polovici stoletja raste v povprečju 8% letno, kar je več kot dovolj za pokrivanje inflacije, prav gotovo pa več od obrestnih mer za dolgoročno varčevanje. Poleg tega nas pri vlaganju v zlato ni potrebno skrbeti, ali bo banka ali država bankrotirala. Vrednost zlata je neodvisna od gospodarske situacije v majhni državi, kot je Hrvaška. Če se pojavi kriza na evropski ali svetovni ravni, bo cena zlata verjetno močno zrasla, pri čemer bodo imeli vlagatelji v zlato lep dobiček. Na naši strani  investicijsko zlato si preberite dodatnih sedem razlogov za vlaganje v zlato.
Avtor:
centarzlata.com
Pripombe:
Vsaka referenca na tej strani na "Banko Zlata" se nanaša na podjetje Saiva d.o.o.

Teksti na centarzlata.com služijo izključno informiranju in izobraževanju o finančnih trgih in trgih plemenitih kovin in jih ne smatrajte kot investicijski nasvet.
____
Želite na svoj naslov dobivati podobne tekste? Prijavite se za prejamnje naših novic in analiz! V naših novicah poleg izobraževalnega gradiva pošiljamo tudi najnovejše analize z dogajanja na finančnih trgih, tako boste pridobili ključne informacije za vlaganja v plemenite kovine.